Team Driving
Team driving is something that is growing in demand with trucking companies. The way team driving works is that you have to drive for eight to ten hours. As you drive your partner sleeps. Each driver must have ten hours off duty which can be combined with sleeper birth time. For example you can have two hours off duty i.e. taking shower,eating. site seeing and then show being in the sleeper birth for the remaining eight hours.There are pros and cons to this type of driving.
Lets look at the pros of a Team Driving job.
You as a team driver are given priority over loads. That means the companies do there best to keep you rolling. Over The Road, (OTR) is exactly what you will be doing. You will be eating , sleeping and driving for an average of 1000 miles a day.
High paying truck driving jobs
If you are a husband wife team together you will make a six figure income. A time to save money. If your new at driving it would be best to have an experienced driver with you and you will be able to learn a lot about trucking. You will not be alone when you face challenges out on the road, like help with directions, backing up in tight places or bad weather. No matter what you decide you should have a exit plan for another type of trucker job. Running team is something most people only do for a little while.
Now Lets Look At The Con of Team Driving
It is a tough life. Your in the truck moving almost constantly only stopping for meals and fuel.
Sleeping in a moving truck is challenging to say the least. Suggestion get foam mattress put it under the companies mattress they provide and that might make the sleep bearable. You are away on holidays, and you seem to start your week before everyone else and finish last.
Here is my personal experience with team
I started running team with a company that had Cargo tankers. I ran from Ohio to California for six months and later traveled British Columbia to Texas. Mostly traveling from the Midwest to west coast. I did run to Florida and some of the Southern states.
They told me they needed me for six months. It lasted for two years. They said I would make 50,000 I made 36,000. I am fifty five now and I was in my late twenties when I was at this job. So what can we learn from this. Make sure you do the math to see how many miles you need to run to make the figure they promised.
I stayed at the job until I found one that paid more and met the requirements I wanted. I did learn some good things running with another person. Out of three partners there was only one I did not get along with. And yet I can say that I learned something form each of them. Some more then others.
I am better driver today because of the experience I had.
I learned to shift better not only because of learning a technique but in trying to be smooth in shifting so the other person could sleep.
Since we were a tanker delivery. I learned technique in pumping product off at challenging customers sites. And it was nice to always had some one to talk to if I had challenges.
I had someone to watch me in close areas when backing up or even tight turns.
It was definitely nice having someone around to get advice.
If money is your objective there companies out there that have the work and if you want to work .
I did see many parts of the country side. There are things that are wonderful to see. There are some views that I have seen that I still think of today and would like to take my wife out there to see them.
I will tell you one of my favorites .
I was driving on 40 towards Albuquerque, NM was on top of the mountain.
Looking over The city of lights. I found it breath taking. I stopped the truck and just looked. Taking in the vast area I could see all the city lights. I found it amazinglyjust beautiful. click link to see
I was also told of they have a hot air balloon fest and it is amazing sight to see.
Here is a picture of one such site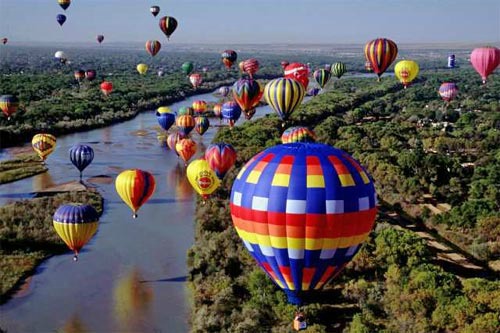 At the bottom of the hill there is a truck stop in the town.
Here is a picture of it